Blog
After listening to Louise Fletcher and Alice Sheridan's highly informative and entertaining Artjuice podcasts, I decided it was time to have a Blog page. A lot has been happening recently, even if, sometimes, it doesn't seem like it. During lockdown I discovered a lot of things about myself, my art, and what I want from it.
Unexpected Happenings
07/10/2020
Unexpected Happenings
After a couple of weeks away in North Yorkshire and Aberfeldy, Scotland, I returned to Lincoln full of new ideas and inspiration, ready to put paint on canvas and produce fantastic art (it's a wonder what a few days away can do!) The best bits of my paintings, in my opinion are always the unexpected bits, those that happen by themselves, with only a little intervention from me.. And so it was last week when an event came out of the blue which put a smile on my face. A local shop, "Preloved and Love from Lincolnshire" wanted items for a window display to celebrate Lincolnshire Day. (Who Knew there was such thing?) I told them I had a couple of landscapes of Lincolnshire that they were welcome to use and took them up, not really expecting anything to come of it. The next thing I knew, there was awhile window of my paintings and some cards, and an Instagram post with my "About me" page copied into it.

Another surprising thing then occurred. A small gallery in Sleaford was making for entries for an open exhibition. I took five paintings along and lo and behold, five paintings are now being exhibited in Sleaford. Thats eight paintings that were not going anywhere a week ago, now on public display.

Tomorrow sees the opening of our Old Chapel Artists exhibition, where other five paintings are going on display. A surprising week.
Steal like an artist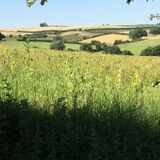 21/08/2020
"Bad artists copy, good artists steal" Picasso
A recent assignment in the "Find Your Joy" experience was to find artists we admire, think what it is about their paintings we love, and try to replicate that within a painting of our own. Not to copy the whole painting, just to bring elements of it into our own work. I have admired the work of Alice Sheridan for some while now. I love the way she uses colour and line in her abstracted landscapes. Joan Eardley's landscapes also drew me in. So I decide to use both in my assignment, basing my painting on a Wolds walk which I had done the week before. The patterns of the fields, the colours in the barley, all seems to say Alice Sheridan, and the foreground weeds say Joan Eardley. To me anyway.

Now I have painted an acrylic version on paper, an acrylic version on canvas, and an oil and cold wax version on cradle panel. The last two still need finishing touches. Watch this space!
Discovering my Joy
11/08/2020
Louise Fletcher's Find Your Joy
I have been participating in Louise Fletcher's Find Your Joy for 5 weeks now. She is an artist who has herself rediscovered her love of painting and totally re-invented herself in the last few years. Not only that, but she loves to teach others how to achieve what they want to, but in no way does she advocate trying to paint like her. It is all about painting how you want to paint, whether that is abstract, figurative, portraits, landscape, still life, black and white or brightly coloured.

My paintings never quite do what I set out to do. They were never quite loose enough, or abstract enough. I set out to paint an abstract poppy field and it ends uploading like a Monet painting. Nothing wrong with that of course, but not what I set out achieve. One of the first tasks on the course was to find artists that we admire, and think about what it is that attracts us to that painting. I have discovered many contemporary artists that I admire while doing this task.

I have rediscovered something I use to do when painting watercolours, what our leader used to call spontaneous painting: covering the paper with paint in a randomish way and the finding the image created. Magic.