After listening to Louise Fletcher and Alice Sheridan's highly informative and entertaining Artjuice podcasts, I decided it was time to have a Blog page. A lot has been happening recently, even if, sometimes, it doesn't seem like it. During lockdown I discovered a lot of things about myself, my art, and what I want from it.
Loose Ends
10/04/2021
How many tea bags does it take to build a bathroom?
I have been feeling at a loose end, owing to the the fact that my studio is undergoing building work and all my painting materials are inaccessible for the most part. Two weeks down the line with no end in sight, not this month anyway. I am of course kept busy making endless cups of tea and coffee for the builders, so there is not a lot of time for feeling loose endish. I am sure it will all be worth it in the end. I shall enjoy filling my new cupboard space with paper, paint, mark making materials, collage bits, glue, books and everything else needed by an artist. I would like to say that I have been catching up with the boring stuff, like updating websites and Instagram, but I can't. The good news is that With Love from Lincolnshire re-opens next week, so I have been sorting out my stock of greetings cards. And my order of mounts for works on paper arrived, so I have managed to get some framed, and organised for my exhibition at the Gallery@St. Martins (watch this space!)
Just going back to my last blog about when a painting is finished, it turns out that the one I was talking about, wasn't. It has changed somewhat. Here is the updated version.
When is a painting finished?
12/03/2021
Is this painting finished?
I have been working on some more abstract landscape paintings in oil and cold wax, slightly bigger than my usual for this medium, being 40 x 40 cm on cradle panels. This orange one, slightly Turneresque (Who am I kidding?) came together quite quickly, but as always, the question of whether it is finished remains. It is at this point that I have to stop and look at it for a while, before I scrape away with the palette knife or add another layer which may ruin it entirely and take me back to the beginning. Curiously, the very act of taking a photo and posting in Art Tribe on Facebook, or on Instagram, immediately reveals parts that annoy me. When it doesn't annoy me any more, and I no longer feel the need to reach for the paint, then it will be finished. Then comes the hard part. What is it called?
Painting Abstract Art
21/02/2021
What is Abstract Art?
This is a very good question If you think about it, all paintings are abstract art. The artist takes something that is 3-dimensional, a landscape, a still life, a person, and turns it into something that is 2-dimensional. Thus abstracting the essence of reality and creating a piece of art. There are of course, varying degrees of abstraction. A realist painter strives to make a painting that looks as exactly like the real thing as possible.While I admire their skill, and this is only my humble opinion, I don't really see the point of that, you may as well save a lot of time and effort and take a photograph. For me, abstracting the essence of a landscape is what it is all about. The other extreme of abstract art is where the finished painting bears no resemblance to anything, and is a (for some) a pleasing arrangement of shapes and colours. And if anyone asks, "but what is it", the answer is always "It's a painting".
Painting Blues
05/02/2021
Painting Blues
Remember those blue paintings I started back in December? Well, here is the second one almost completed. It turned out nothing like the ambitions I had for it. It is still blue, mostly, and I am quite pleased with the result, which all goes to show that we should let the road, or in the this case, the paint decide. If you missed my news letter on this subject, please sign up!

There is a lot going on right now. I have signed up to #the100dayproject which involves doing something for 100 days and posting the results on instagram. My project is to draw or paint the West Common in all its variety, in a sketch book. There are 2 main aims to this, one is to use sketch books, something I am not very good at, and the other is to improve drawing skills. See my IG page #the100dayprojectmargaretbird. At the same time, Louise Fletchers Art Tribe group are focusing on loose drawing skills, so that worked out well. Also signed up for a workshop (free!) Art2Life, starting next week.

See you soon!
The Art of Watching Paint Dry
22/01/2021
I am not Zen enough to master the Art of Watching Paint Dry
Actually, I am not quite sure what that statement means exactly. If it means that I haven't got the patience to sit crossed legged on the floor and zone out then yes, am not Zen enough.(Not actually physically capable of sitting crossed legged on the floor either if that is a requirement.) And therein lies the problem. I have been working on small oil and cold wax pieces on paper, as well as some larger canvas pieces and generally making a bit of a mess of it. Oil paint takes a lot longer to dry than either watercolours or acrylics, days rather than minutes, which means I tend to make a muddy mess, layering colours one on top of the other before they are quite dry enough. Still, it is good fun in a messy, making mud pies kind of way, scraping back to see what is underneath, adding more layers on top. Here are four of the most successful to date. Not sure yet where they are going. All suggestions (positive ones only!) gratefully received. I can always be contacted through the website, or at info@maggiebirdpics.co.uk if you would like further information. And please, do sign up for my newsletter.
So, that was Christmas...
08/01/2021
So that was Christmas, and what have we done?
Another year older, and a new one just begun. To paraphrase a well known Christmas song! In answer to my own question, not a lot, owing to the Covid-19 restrictions. No family Christmas or New Years Eve with friends this year. On the plus side, I am safe and well, and have managed to get some painting done, added a new gallery to the website and honed my social media skills. The latter is something I am not yet entirely comfortable with, but am beginning to see the advantages and how it can be used in a positive way.

I set myself a target to paint a dozen small oil and cold wax paintings on paper, using different compositions, as well as the blue paintings I had already started, some of which are no longer blue, the one pictured for example. It has retained some blue, and certainly looks cold! It is not yet finished, but getting there. You will note, that those millstones on Stanage Edge have appeared again.
Christmas 2020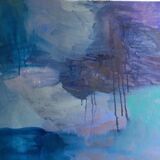 20/12/2020
Christmas like no other
There is one thing for sure, Christmas this year will be, for many people, like no other Christmas. Plans have been scuppered, families unable to see each other, Christmas Day postponed, (turkeys reprieved? probably not!) it doesn't really matter to me when I celebrate Christmas. In fact, back in the 4th century, or whenever it was that the learned men of the time were deciding when we should celebrate Christmas, they only chose this day 25th December, because most cultures around the known world already had festivals of light around this time. So I am all ready for it, whenever it happens! Safely.

This has got nothing to do with painting, except I am in a blue phase. This painting, and two others have just started their journey. I know not where they are headed, it is for the paint to decide. I discovered nine different tubes of blue paint in the paint drawer, which prompted me to use them, so just messing about at the moment. Watch this space.
"You can't have too many reindeers"
11/12/2020
"You can't have too many reindeers"
I was in a shop, looking at Christmas decorations when another customer entered and declared that she had room for another reindeer, and spent some time choosing one. "You cannot have too many reindeers!" she said. Which prompted me to buy a reindeer too. And a Father Christmas. And some lights.

This has nothing whatsoever to do with my art making process, but cheered me up after a week (or two) of being frustrated with technology and the so-called "Support". I was trying to add a "sign-up here" for a newsletter, which sounded easy enough, but the instructions didn't quite match the reality. The annoying thing about asking for Help via a Helpdesk, is that I usually have to ask for Help to understand their reply.

It is done now, and here's hoping someone, other than my best friend, signs up to receive news and special offers.

On the art front, I think I have finished 3 cradle panel works. Maybe. They are not quite ready for putting in the Gallery yet, but here is a preview. They are all Derbyshire Peak District views. Sort of. This one is temporarily entitled "Hope".
Getting organised
27/11/2020
Getting organised as a Connected Artist
Last weekend I watched a short video: Alice Sheridan was telling us that we should complete a weekly planner to become more organised, focus our minds on the tasks in hand (which I have to say are becoming more numerous the more I dive into being a "connected artist "). I wrote in my art journal that it was probably too much like a school timetable, and that I had had enough of those to last a lifetime. That it probably wouldn't work for me and I would go off piste rather than getting the job done. But I printed a few off and filled one in for this week. I wrote that I would focus on finishing the two box canvasses that had been bugging me -see last weeks blog for one of them, and that I would change my homepage, fill in the new labels for the Love Lincolnshire shop and go for a walk on Thursday with hubby. And guess what? I have done all of those, AND added an additional information page to website, which was one of next weeks tasks. Job Done!
You will note that the painting now bears no resemblance to the safe harbour it was last week. Now it is a reminder of a walk in Wensleydale. Is it finished? Don't know yet. I hope so, but time will tell.
Dazed and Confused
20/11/2020
What to do when you are Dazed and Confused? When you have moved on but your paintings still turn ou the same?
What do you do when you have moved on but your painting hasn't? Sometimes I have so many ideas buzzing around in my head I don't know where to start. At other times, like now, I have so many paintings that I've started from these good ideas and I don't know what to do next. At the moment I have eleven works started, they are not really connected in any way. Five of them are acrylic, 40cm x 40cm and 30 cm x 30 cm. Six are oil and cold wax smaller paintings. One of the acrylics was nearing completion. It started out at an attempt at an abstract painting, just shapes in colours that attracted me, but ended up as a harbour painting. The thing is, it isn't what I want to do. It is what happened against my will! So the question is, do I put it up for sale or start again.
I joined Connected Artists Club this week with Alice Sheridan and watched my first Q and A session. One of the topics was what to do when you are stuck. Write down all of your issues, and by the time you have done that you will know the answer. (This wasn't guaranteed!) So I did just that. And the answer started to become clearer. I don't need to call it finished. It isn't compulsory. And if it isn't giving me joy (Louse Fletcher!) Don't do it! So I won't! I will start again. on all 11, and make sure they have a common theme.
Virtual Exhibition
15/11/2020
Sister Act, Virtual Exhibition
Tomorrow, Monday 17th November, I should have been hanging pictures in Gallery at St. Martins in Lincoln with my sister, Sheila Burkitt. Because of Lockdown 2, that is not now happening. We were having a joint exhibition my sister and I. Instead, a video version will be uploaded to Instagram and Facebook. All of our paintings, which would have been in the exhibition are either here or on www.hawthornegallery.co.uk. Hopefully, it won't be too long before a real exhibition can go ahead and I will be writing here with more positive news.
Giving Art as a Gift
04/11/2020
Giving Art as a Gift can be Difficult
Giving Art as a Gift can be Difficult
As we move into lockdown again many of us are faced with the prospect of Christmas shopping online. Is there someone in your life who has a special birthday, or someone you have no idea what to give for Christmas, or a wedding present you need to buy? Sometimes it seems like a piece of art would be an ideal gift, but it can be fraught with difficulty. What if they don't like your taste, or it is too big, or too small for the space? Or maybe you would like a painting but do not want to ask for the it as it may cost too much for your partner or friend or relation to buy?
A Gift Certificate is one way round this problem. I now have gift certificates available at different values, from £50.00 to £300 which can be exchanged as whole or part payment for a painting. The certificates are printed on quality paper, tied with a bow and can be sent directly to the recipient, or to the purchaser. Just send a message via the contact form for any special requests.
Alternatively, you can buy the painting outright, and I will always exchange it for an alternative, from either Birdscapesart or my sister website, Hawthorne Gallery.
Unexpected Happenings
07/10/2020
Unexpected Happenings
After a couple of weeks away in North Yorkshire and Aberfeldy, Scotland, I returned to Lincoln full of new ideas and inspiration, ready to put paint on canvas and produce fantastic art (it's a wonder what a few days away can do!) The best bits of my paintings, in my opinion are always the unexpected bits, those that happen by themselves, with only a little intervention from me.. And so it was last week when an event came out of the blue which put a smile on my face. A local shop, "Preloved and Love from Lincolnshire" wanted items for a window display to celebrate Lincolnshire Day. (Who Knew there was such thing?) I told them I had a couple of landscapes of Lincolnshire that they were welcome to use and took them up, not really expecting anything to come of it. The next thing I knew, there was awhile window of my paintings and some cards, and an Instagram post with my "About me" page copied into it.

Another surprising thing then occurred. A small gallery in Sleaford was making for entries for an open exhibition. I took five paintings along and lo and behold, five paintings are now being exhibited in Sleaford. Thats eight paintings that were not going anywhere a week ago, now on public display.

Tomorrow sees the opening of our Old Chapel Artists exhibition, where other five paintings are going on display. A surprising week.
Steal like an artist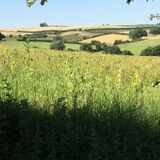 21/08/2020
"Bad artists copy, good artists steal" Picasso
A recent assignment in the "Find Your Joy" experience was to find artists we admire, think what it is about their paintings we love, and try to replicate that within a painting of our own. Not to copy the whole painting, just to bring elements of it into our own work. I have admired the work of Alice Sheridan for some while now. I love the way she uses colour and line in her abstracted landscapes. Joan Eardley's landscapes also drew me in. So I decide to use both in my assignment, basing my painting on a Wolds walk which I had done the week before. The patterns of the fields, the colours in the barley, all seems to say Alice Sheridan, and the foreground weeds say Joan Eardley. To me anyway.

Now I have painted an acrylic version on paper, an acrylic version on canvas, and an oil and cold wax version on cradle panel. The last two still need finishing touches. Watch this space!
Discovering my Joy
11/08/2020
Louise Fletcher's Find Your Joy
I have been participating in Louise Fletcher's Find Your Joy for 5 weeks now. She is an artist who has herself rediscovered her love of painting and totally re-invented herself in the last few years. Not only that, but she loves to teach others how to achieve what they want to, but in no way does she advocate trying to paint like her. It is all about painting how you want to paint, whether that is abstract, figurative, portraits, landscape, still life, black and white or brightly coloured.

My paintings never quite do what I set out to do. They were never quite loose enough, or abstract enough. I set out to paint an abstract poppy field and it ends uploading like a Monet painting. Nothing wrong with that of course, but not what I set out achieve. One of the first tasks on the course was to find artists that we admire, and think about what it is that attracts us to that painting. I have discovered many contemporary artists that I admire while doing this task.

I have rediscovered something I use to do when painting watercolours, what our leader used to call spontaneous painting: covering the paper with paint in a randomish way and the finding the image created. Magic.