So, that was Christmas...
08/01/2021
So that was Christmas, and what have we done?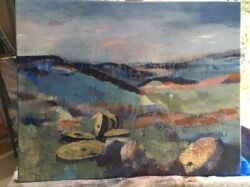 Another year older, and a new one just begun. To paraphrase a well known Christmas song! In answer to my own question, not a lot, owing to the Covid-19 restrictions. No family Christmas or New Years Eve with friends this year. On the plus side, I am safe and well, and have managed to get some painting done, added a new gallery to the website and honed my social media skills. The latter is something I am not yet entirely comfortable with, but am beginning to see the advantages and how it can be used in a positive way.

I set myself a target to paint a dozen small oil and cold wax paintings on paper, using different compositions, as well as the blue paintings I had already started, some of which are no longer blue, the one pictured for example. It has retained some blue, and certainly looks cold! It is not yet finished, but getting there. You will note, that those millstones on Stanage Edge have appeared again.