Studio and Exhibition News
08/05/2021
Studio Finished! Exhibition!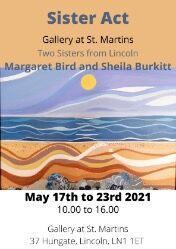 Finally! My "studio" is finished!!! And very smart it is too. So smart I was reluctant to paint in it and mess it up for a few days. I have got over that now, and have been working in there, carefully, on some new oil and cold wax paintings in a very limited range of colours; turquoise and indian yellow ,plus black and white. They are on their fourth layer now, almost done, maybe (see previous post!) They will not be ready in time for my exhibition, which is fast approaching. Deciding what to include and what to leave out has been tricky, there are so many paintings to choose from. My sister and I will be very pleased to welcome visitors. The exhibition runs from 17th May for one week, at the gallery at St. Martins, Lincoln. There will be a mixture of acrylic and oil and cold paintings. The flyer shown here has one of Sheila's paintings on it, just so you can see what to expect.
In other exhibition news, a number of my paintings will be exhibited in the Stableyard at Doddington Hall, near Lincoln, from June 9th to 24th July. I am super excited about that! I will be providing further details about that when I have them.